Vienna Shorts
Animate Projects: Marking Time
Date:
Monday, 30.5.2011, 22:00
Location:
Metro Kino


Animate Projects are known in the UK as important pioneers and networkers, as well as "enablers" of experimental (animation) film projects. That this doesn't save you from financial cuts from the British Arts Council was painfully felt by the "online exhibition space" at the beginning of the year. One by one, renowned artists like Phil Mulloy, Paul Bush or Stephen Irwin threw their weight behind the platform, which also acts as producer together with Channel 4. In Vienna, Animate Projects will present their highlights from the past 15 years.
Website:
www.animateprojects.org

Total length:
69 min


Sunset Strip

UK 1996, 4 min
Director:
Kayla Parker
A year of sunsets. Brakhage-style interventions directly onto film stock in this record of light and cloud. Time-lapse goes transcendent with a little help from nail varnish, petals and stockings.


Feeling My Way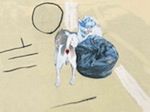 UK 1997, 5 min
Director:
Jonathan Hodgson
What goes around comes around: the daily cycle of home-work-home illuminated in collage, Hi-8 and paint. Layered and luminous with in-sight.


Withdrawal

UK 1997, 4 min
Director:
George Barber
A home movie on permanent loop. Live action up for grabs. A family walk the walk across a field, disappearing into memory as they do. Who knows where the families go?


Salvage

UK 1998, 4 min
Director:
John Parry
From scrapbook bodies to outlines filled with light, there's collage in the chaos and dance tunes in the abstract visual music. Take two…


Ferment

UK 1999, 5 min
Director:
Tim Macmillan
A momentary lapse of motion as Macmillan cuts a cross-section through the city's day. Mobile photography or freeze film? Small epiphanies and the human trace, whatever the terms.


Furniture Poetry

UK 1999, 5 min
Director:
Paul Bush
All change at Bush's place. An object lesson in the fecundity of things. Variety is the spice as Wittgenstein pitches us into musical chairs, tables, apples and shoes with his thoughts on certainty, or its lack.


13

UK 2004, 5 min
Director:
Simon Faithfull
A melancholy journey along the A13 trunk road. Created from pixelated PalmPilot drawings, the film conveys an elliptic and fantastical journey through a parallel universe.


As the Crow Flies

UK 2005, 5 min
Directors:
Carolina Melis
,
Susanne Flender
A bird migrates across drawings from 500 members of the public. In a visual version of Chinese whispers the image transforms producing an unpredictable narrative flight.


Purple Grey

UK 2006, 8 min
Director:
Sebastian Buerkner
A vivid imagination can offer a seductive distraction from life's duties. Showers of twisted fantasies, associations and flashbacks turn in this instance into an insensitive, dreary obstruction.


Proximity

UK 2006, 4 min
Director:
Inger Lise Hansen
An upside-down time-lapse camera moves along a beach, inverting the ground and the sky. The result is a disorienting and mysterious space on the screen.


The Life Size Zoetrope

UK 2007, 6 min
Director:
Mark Simon Hewis
The Life Size Zoetrope is the celebratory life story of one man, told via a one-take live action shot of a human zoetrope containing the film.


The Black Dog's Progress

UK 2008, 3 min
Director:
Stephen Irwin
24 times 24 pictures per second, mental overload by simultaneity. Flip-books describe the sad story of a black dog, the development of which is almost indiscernible due to the accumulated and ever more condensed loops. Violence, brutality, neglect, love, concern, help, all on one screen. Just be careful not to lose sight of the dog!


Amnesia

UK 2009, 7 min
Director:
Cordelia Swann
Inspired by the unlikely plots of afternoon TV and Hitchcock's Rebecca, Amnesia opens with our heroine discovering that her husband is Pierce Brosnan who gives her a mobile phone so that she will remember her past.